Mission Statement
Our mission is to create an environment
conducive to facilitating optimal learning for all
students, enabling them to reach their full
potential as productive members in society.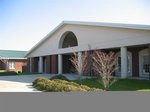 A Look Back
Billingsley School was first established in 1898. School was conducted in a one room building for the first year. In 1899, a second room was added to house students. A different two-room building was constructed in 1906. These buildings served both elementary and high school students.
In 1930, high school students began to meet in a new brick four-room building that had been constructed. Sadly, this building was destroyed by fire not long after opening. The community made a commitment to rebuild and the new building was completed in 1931. This building served the school, with many additions and renovations, until it was decommissioned and razed in 2000. The current building was constructed in 1999 and opened in January of 2000. An elementary gym, baseball field, athletic fieldhouse, and a high school gym have been added since Billingsley School moved to the present site.